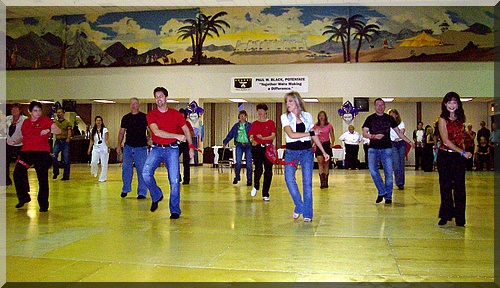 Welcome and Thanks for Visiting
DANCE ON
Our aim is to support Line Dancers with a site where they will be able to check for some of the most popular dances and keep current with the line dance world. With step sheet and video support, we hope to encourage new dancers to share the joy of line dancing. We offer the highest quality to our dancers and strive to continue to refine our competence through workshops, research and information gathering as it pertains to our profession. Welcome to all our new students and thanks for all the support from our returning students. We couldn't do this without all of you.
---
---
NEWS / EVENTS


11/28/2015

Please check the Schedule page for the weekly teaches. We just returned from Georgia where I completed a dance workshop on Level 1V & V. Marvin and I also reviewed Levels 1, 11, & 111. I managed to pass my accrediation Exams on Levels 1V & V and have now completed all the levels of Accrediation offered by the National Teachers Association. I hope to include all I have learned in my classes. ALL the above Levels do apply to Line Dance.

1/9//2016

We introduce the top dances in the world to El Paso Teachers in our Wednesday class. Other favorites also are reviewed. So come to our Wednesday class and learn along with us.


1/9/2016

We dance on

Tuesday

mornings at

Wellington Chew

Senior Center at

9:30

,

Joan Miller

is the

Instructor

. This is a

Beginner/Improver

level class, taught nice and slow by Joan.

Dance On

teaches a

Beginner/Intermediate

level class, also at

Wellington Chew

Senior Center,

Wednesdays

1 p.m to 3:30 p.m.

Dance On

has added a

new class

for

Absolute Beginners

on

Thursdays from 9:30 to 11:30

. Come and join us.



1/9/2016
We are happy to let you know that this site is now 8 years old!!! I am proud to have managed it for so long. Didn't think that I could do it. Hope you like it.

---
home | about us | classes | schedule | events | photos | videos | events | links | contact